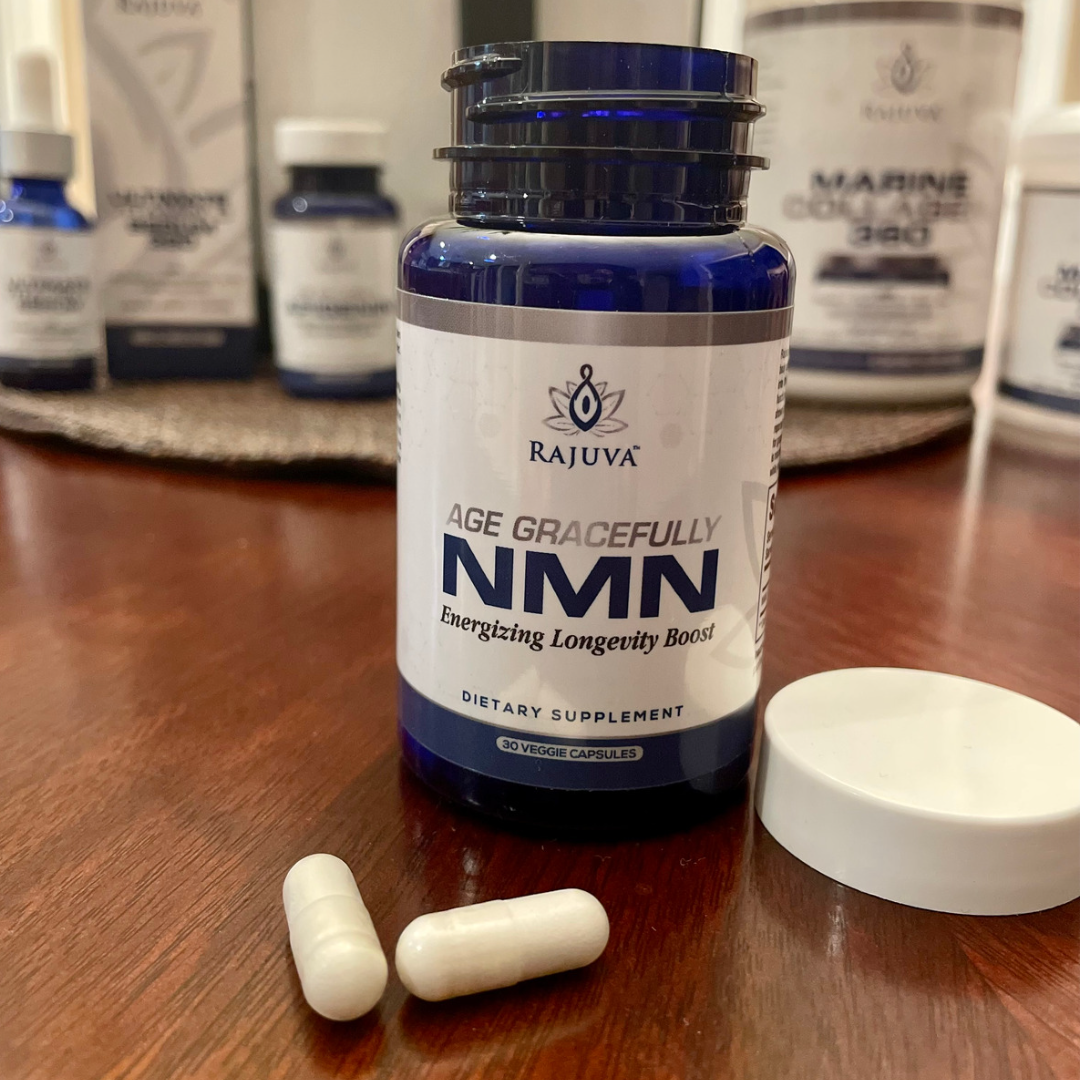 Rajuva NMN Capsules - 30 Count
Description
Directions
Ingredients
Rajuva NMN is organically grown, not synthetic, grown from yeast fed with grains, which is a cleaner, healthier sourcing. 
NMN is nicotinamide mononucleotide, a precursor to the body cell's fuel, NAD+. It is a small particle that is easily absorbed into the body and goes into the cell to optimize mitochondrial function giving the body maximum energy output. It has been shown to enhance muscle performance and fitness. It has been reported to improve overall cellular health and metabolism allowing for graceful aging. Taken with Rajuva Apigenin, NMN's effectiveness is maximized. Take both at bedtime to allow
for relaxation and sleep while your cells are rejuvenated.
BENEFITS:
● Optimizes mitochondrial and cellular function
● Decreases cellular stress and injury
● Improves muscle endurance and fitness
● Improves heart health
● Enhances brain function
● Augments insulin sensitivity and blood sugar regulation
● Promotes sleep and relaxation
● Overall boosts energy and longevity
● Organically sourced from yeast, not synthetic
Take 1 capsule daily with a glass of water. Best taken with Rajuva Ashwagandha at night for relaxation and improved mood.
Intended for adult men only. Keep away from children. Not for female consumption. Store in a cool, dry place.
Active Ingredient: protodioscin 20%. Inactive Ingredient: vegetable capsules (cellulose, purified water)
Vegan, nut free, non-GMO, gluten-free, dairy-free.
Rajuva NMN Capsules - 30 Count