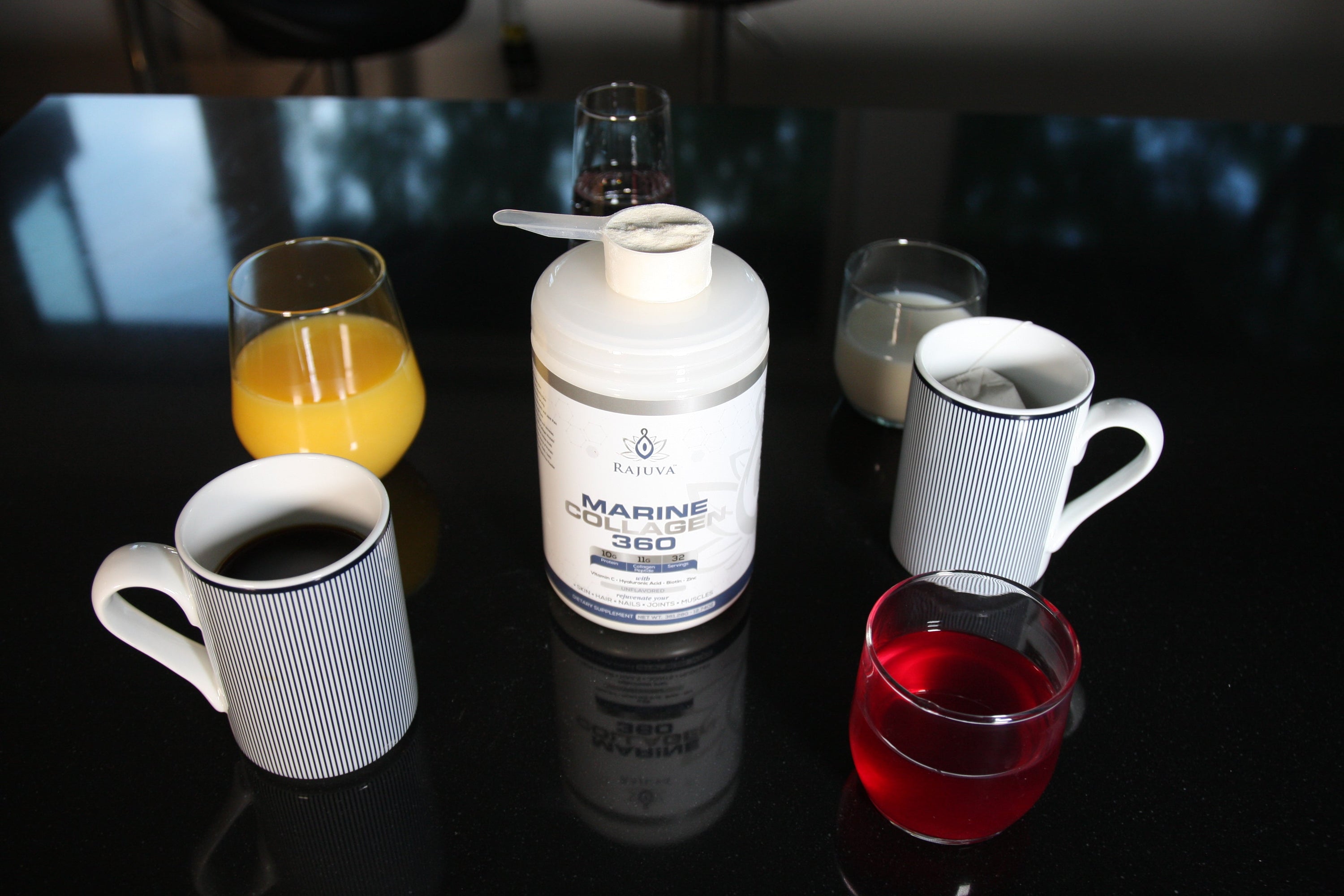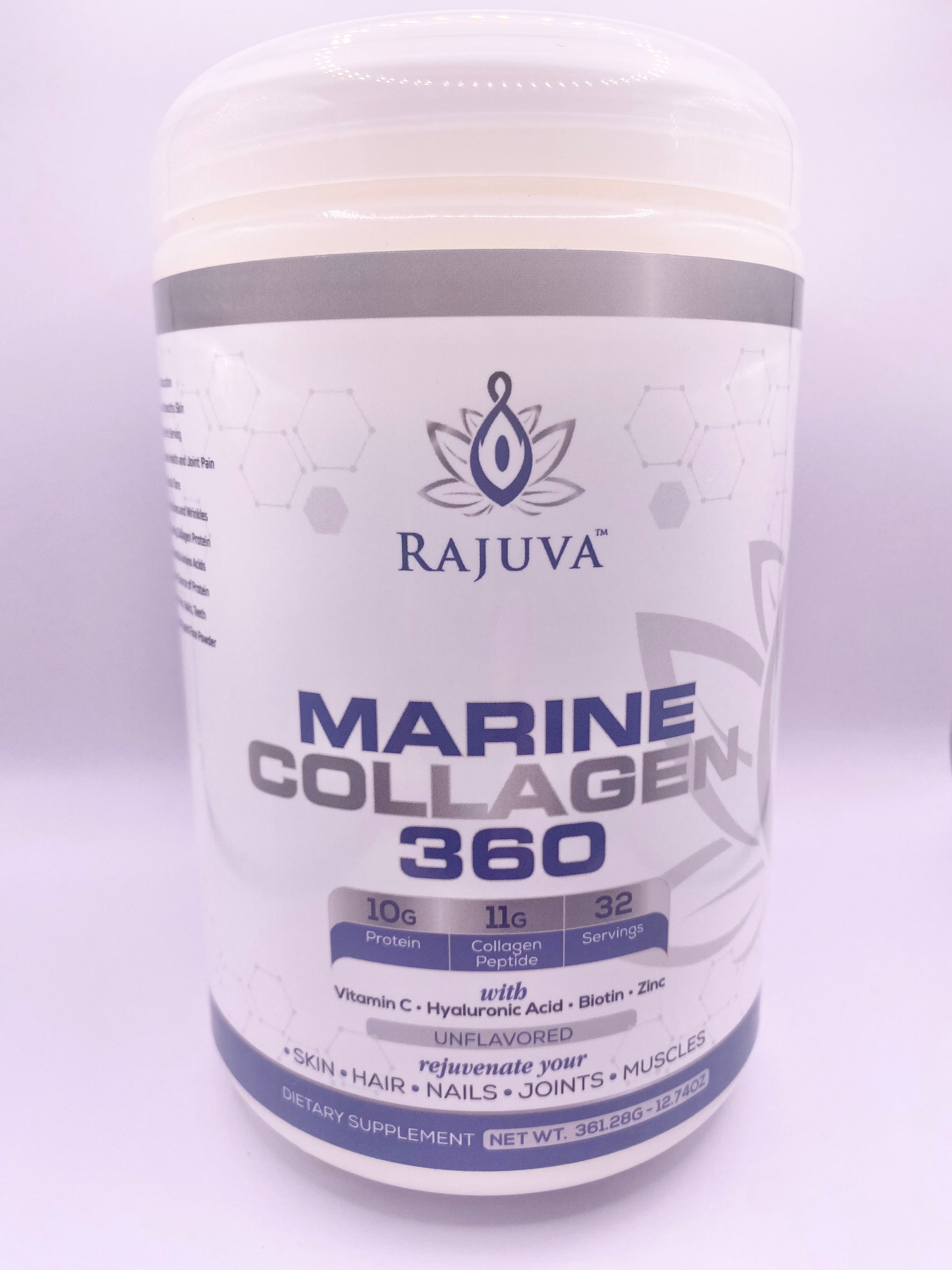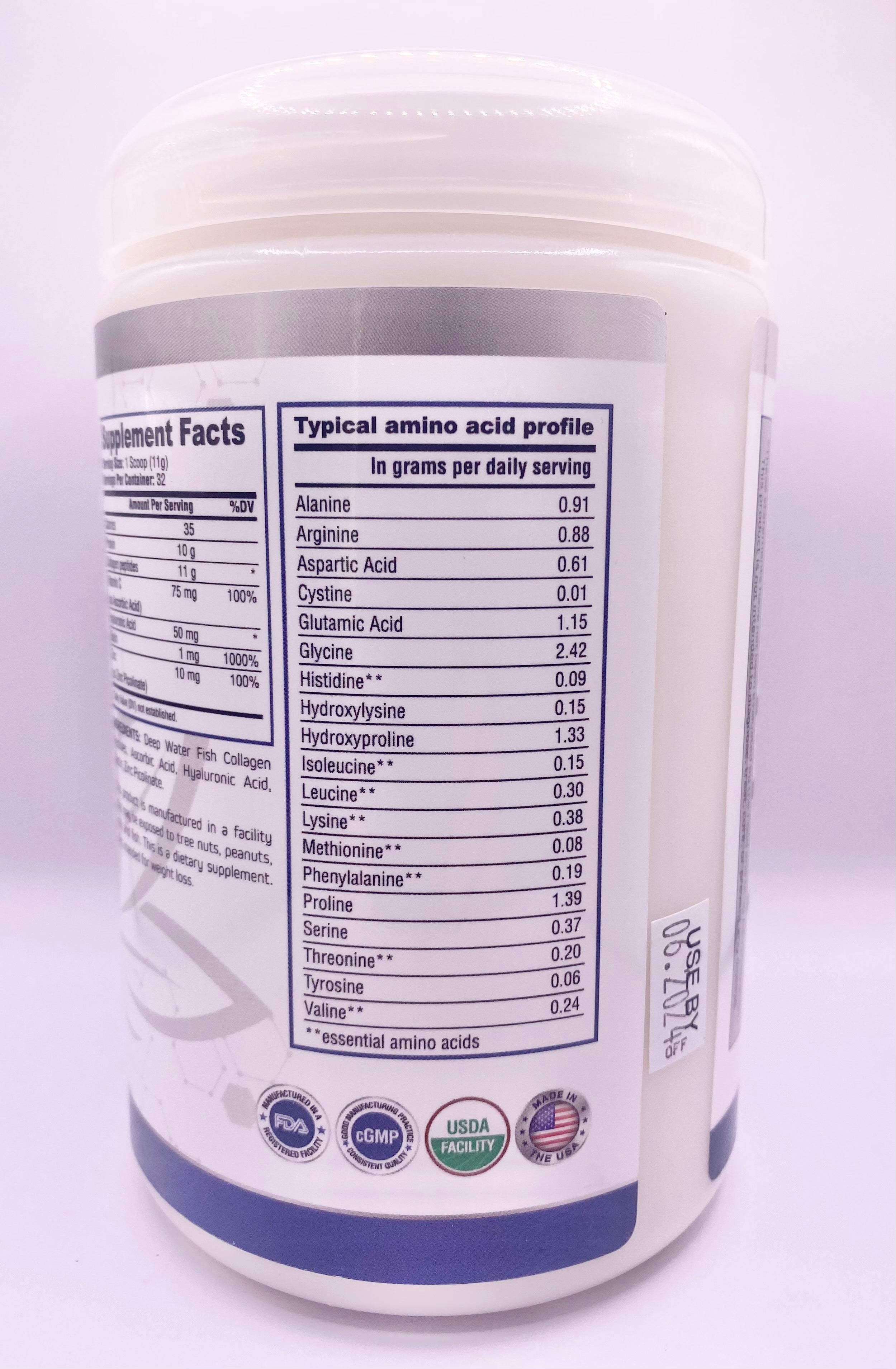 WHOLESALE: Rajuva Marine Collagen 360
Description
Directions
Ingredients
Retailers: Purchase individual jars of Rajuva Marine Collage 360 at the wholesale price of $39.50. 
Rajuva Marine Collagen is enzyme hydrolyzed which is a cleaner, more expensive process of extracting the collagen peptide protein from the fish skin and breaking down the collagen particles into a very fine powder that is not only better but more efficiently absorbed. This allows most of the collagen protein to get to the skin, hair, teeth, bones, and joints and strengthen them. Other collagen products are acid hydrolyzed which is cheaper and results in an inefficiently absorbed product. Not much gets into the body, most is excreted. They also have fillers added to increase the bulk. 
Rajuva Marine Collagen is derived from the skin of free-range non-farmed fish like cod, from clean waters. This eliminates the possibility of contamination from pollutants, toxins, and chemicals including mercury. We have a certificate of authenticity to verify this. Our marine collagen is further tested by independent third-party testing to ensure no contaminants with every batch.

Vitamin C and Zinc are necessary for your body to build collagen. Rajuva provides 100% of your daily value with 75mg of Vitamin C and 10mg of Zinc.
Hyaluronic acid is included to help retain moisture and further fortify skin and joints. 1,000% of your daily value of Biotin is added for strong hair and nail growth.
It provides a healthy supply of 11 g of necessary collagen and 10 g of clean protein, all at only 35 calories per serving.
Add 1 scoop to your favorite beverage or food. Coffee, tea, smoothies, juice, yogurt, oatmeal, etc.  Shake or stir well immediately. Hotter drinks mix easier. Store in a dry, cool place. You'll start to feel and see results in weeks, with 3 months of continued use for bests results. 
Per Serving
Deep Water Fish Collagen Peptitdes : 11 g
Protein: 10 g
Vitamin C: 75 mg
Hyaluronic Acid: 50 mg
Biotin: 1 mg (1000% DV)
Zinc: 10 mg (100%)
Calories: 35
WHOLESALE: Rajuva Marine Collagen 360
Compare Rajuva Ingredients and Amino Acid Profile To Other Brands: