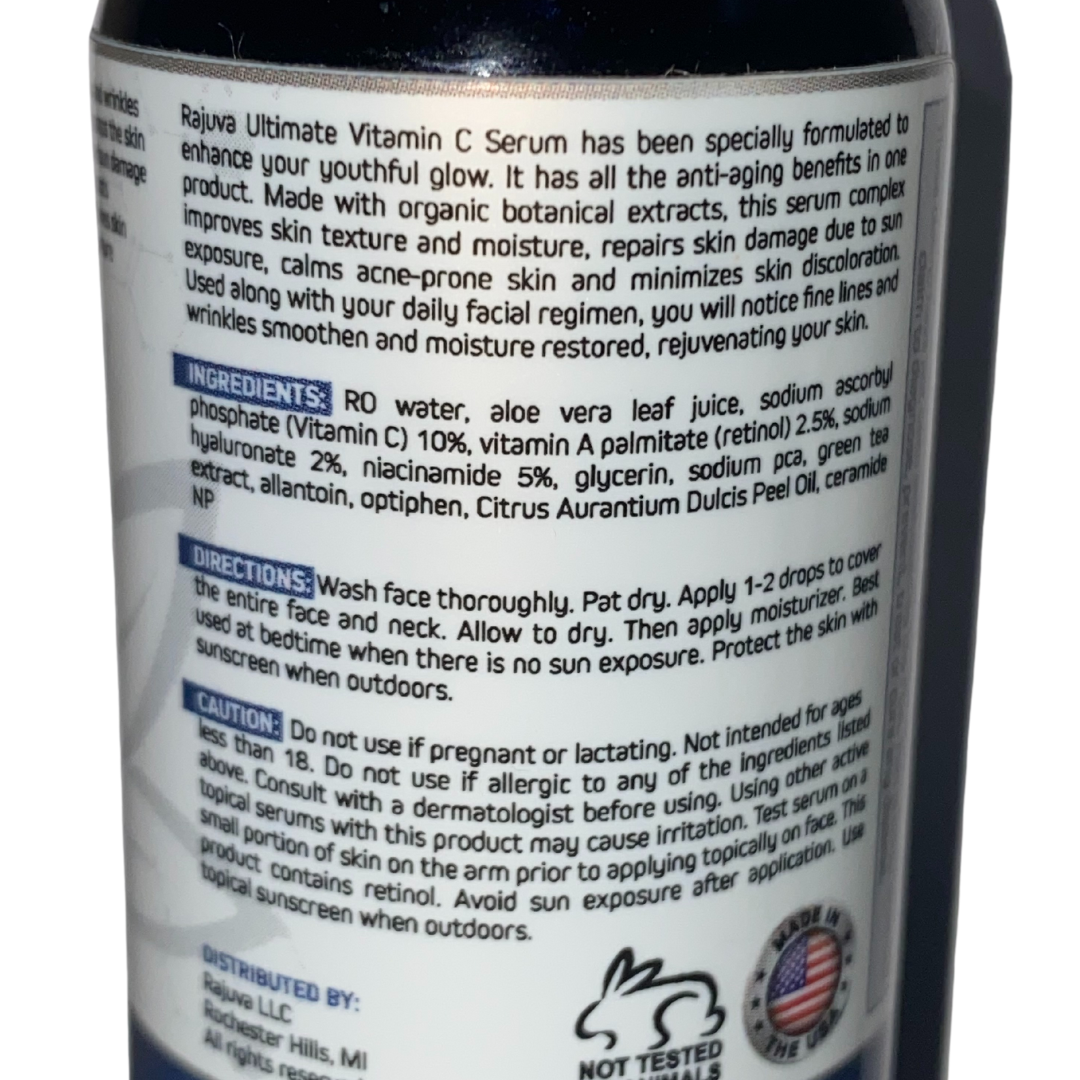 Demo Product For Retailer: Ultimate Vitamin C Serum
Description
Directions
Ingredients
One serum to be included with certain orders that the retailer will do demo's of the products in store.
Shake the bottle before use. Wash your face thoroughly and pat dry.
Do not touch the dropper to your fingers as this may cause bacteria from your fingers to get back in the bottle.
Drop a few drops into your palm or fingers and apply a thin coating to your entire face and neck.  Use as much as you needed. When used daily, you'll have about a 2 month's supply. 
Do not use prior to being in direct sunlight. 
RO Water
Vitamin C: 10 %
Retinol: 2.5%
Sodium Hyaluronate: 2%
Niacinamide: 5%
Aloe Vera Leaf Juice
Glycerin
Sodium PCA
Green Tea Extract
Allantoin
Optiphen
Citrus Aurantium Dulcis Peel Oil
Ceramide NP
Demo Product For Retailer: Ultimate Vitamin C Serum
FAQ
How often should I use it?
Once daily at night time before bed. Don't use before being in direct sunlight.
How do I use it?
First, wash your face and hands. Shake the bottle before use. Fill the dropper to the .25 line on the dropper and dispense it onto your palm. Use your fingers to rub the serum over your entire face. When finished, we recommend using a moisurizer as a final touch.
How much should I use?
The dropper has line marking at .25, .5, .75, and 1 ML. Filling the dropper to .25 should be enough to cover your face.
When should I expect results?
Most people see and feel improvement to their skin within 3 weeks of daily usage. Certain issues like Acne you'll see results faster.